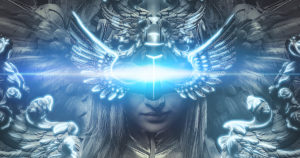 After Chaos, the Seal of Harmony came under contention. Contestants throughout Lusternia rose up with their voices to win hearts and minds of the denizens of the land. Though Jolanthe of Gaudiguch was the first to make her voice heard, Yendor, Enadonella, and Leticia of Glomdoring soon overtook her, followed by Ixion and Vatul of Magnagora.
Yendor became the leading speaker of Harmony through most of the period of the Trial, while Jolanthe and Leticia vied back and forth for third, and the same for Vatul and Ixion for fifth place. In the end, Enadonella overtook Yendor in her words to become the winner of the Trial and the bearer of the namesake medallion.
Congratulations, Enadonella, holder of the Seal of Harmony!
Second Place: Yendor, of Glomdoring
Third Place (tie): Jolanthe, of Gaudiguch and Leticia, of Glomdoring
Fourth Place: Ixion, of Magnagora
Fifth Place: Vatul, of Magnagora