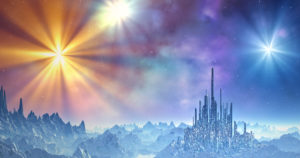 As the Trials of Ascension raged on, the creative geniuses of the Basin of Life were busy at work in the background. One by one they crafted great works of art that, they hoped, would be worthy of protecting the Seal.
To aid them in their imaginative exploits, they were granted a theme to place within their work: of Aetherspace itself, inspired by the near-catastrophic collision of the aetherbubble Lyraa Ey Rielys. This proved to be a colourful and expansive source of inspiration for the First World's designers.
In flourishing within this prismatic space, it was Jolanthe Rithel of Gaudiguch who stood triumphant over all other artists, her swirling music box of aetherial currents deemed worthy of the Seal of Beauty itself. For its depiction of the hues, bubbles and layers of Aetherspace, she was awarded the Medallion.
Second place was awarded to Shaddus Trueflight of Magnagora, for his triptych tapestry of Gnafia machinations.
Third place was awarded to Faragan Ladyn of Gaudiguch, for his pedestal depicting aetherspace.
Fourth place was awarded to Hegemone i'Vipere of Magnagora, for her polychromatic tent folded neatly within a canvas tote.
Fifth place was awarded to Allixea of Glomdoring, for her opal and silver necklace.
Though these five designs rose to conquer all others, the following designs merit honourable mention for their craftsmanship and interpretation of the Avenger's theme: Lavinya d'Murani of Magnagora (a delicate silver hair pin of frost and snow), Vatul Feyranti of Magnagora (a corroded silver fullplate of a shock-trooper), and Ayisdra Ysav'rai of Hallifax (a vast tattoo of aetherspace).