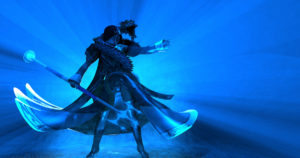 On the 5th of Vestian, 524 CoE, the Challenge of Life was held. It was Malarious who cured the first diseased furrikin from its ailments, followed by Steingrim. Soon after Avurekhos appear as the third challenger. Poihala, Lorina and Eliron eventually joined the ranks.
By the halfway mark of the Challenge it was these six who travelled around the Basin looking for poor unfortunates to heal as to prove their worthiness of becoming a seal bearer. At this point we found Malarious in the lead, followed by Avurekhos and Steingrim, while the latter three places were moving around all over.
As we came two thirds into the challenge, it became apparent that Malarious would be a likely winner, yet Avurekhos began to slowly lose his hold on the second place. Meanwhile further shuffling happened in the last three positions as none of the challengers were going to just give up without putting in everything they had.
As the Challenge of Life reached its end, it was Malarious who proved that a strong start and a lot of perseverance would see him through as the winner with a grand total of 44 furrikin cured. As Avurekhos saw quite a bit of opposition, it was ultimately Steingrim who was able to secure second place, while still granting Avurekhos a solid third place. As for the others, they came in with a never before seen tie for the fourth place. Special congratulations to Poihala, Lorina and Eliron for keep things interesting until the very end and showing us that indeed anything is possible for those who step up and try.
Congratulations, Malarious, Bearer of the Medallion of Life!
The following prizes were also awarded:
Second Place: Steingrim, of Gaudiguch (25 cures)
Third Place: Avurekhos Feyranti, of Magnagora (24 cures)
Fourth Places: Poihala, of Glomdoring, Eliron Shee-Slaugh, of Glomdoring and
Lorina, of Celest (5 cures each)