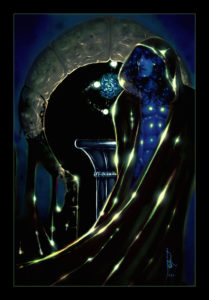 Magicked thorn-serpents and cursed arrows flew across the skies of the Basin of Life when Maylea, Bloom of Serenity snuck into the Glomdoring in disguise to steal an item tied to Nocht, the Silent from His own order head, the Wyrden Haruspex of the Auguries, Rancoura.
Nocht had rallied the power of the forest to reclaim the stolen item, but was struck a surprise blow from an arrow shot from Maylea's bow, Pathfinder. Yet it seems this was no ordinary arrow, as when the Glomdoring patron removed the offending shaft, He found not just gore and mangled flesh, but a brilliant bouquet of snapdragons. The surprise gave the Serenwilde Goddess time to flee as Nocht tends to His strange wounds.
What plans does the Bloom of Serenity have for Her stolen prize? How will the Silent and Glomdoring retaliate? Only time will tell, but for now both Elders seem to be plotting Their next steps away from the prying eyes of Lusternia.