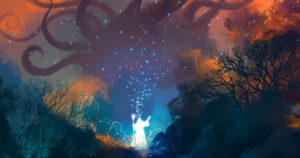 The first to hold the Staff of Ascension was Tarken, Champion of War, but it was Yendor, Champion of Death, who held the staff for a long stretch of time, nearly completing Ascension. Backed by Gaudiguch and New Celest, the Dark Forest seemed destined to win with Yendor at its helm. Magnagora and Hallifax were allied around Ixion, Champion of Justice, but their strategy did not gain traction. Serenwilde stayed on the sidelines.
But then the unthinkable happened. Malarious, Champion of Life, stole the staff from Yendor, ending the Gaudiguch alliance with Glomdoring for the Ascension. The leader of Gaudiguch, Mayor Steingrim, quit and joined Glomdoring. Hallifax and Magnagora, reacting to the sudden shift in Ascension alliances, backed Malarious, and the race to Ascension became one of the most brutal in the annals of the Basin of Life!
Thus, it became a battle between the Champion of Death and the Champion of Life. Against all odds, Malarious with the aid of those who supported the Champion of Life, slowly but inexorably worked his way towards Ascension. Ixion briefly held the staff but only as a steward for Malarious. The Champion of Death was finally able to muster enough support to topple the Champion of Life, wherein the Champion of War passed the staff back to the Champion of Death.
With moments remaining, it was anyone's guess who would make it to the final minutes, but Yendor was able to hold onto the staff just long enough to become a True Ascendant and recharge the seals. Yendor was born again under the name of Snald.
All hail, Snald, the True Ascendant of Death!