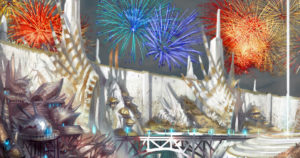 Lusternia is now completely free to play! This means that rather than needing to purchase credits, you can earn credits in-game, at the rate of 20 bound credits/RL day. Also, cities and communes can earn credits every game year. Credits are still available for purchase on the website and elite memberships are still available in order to cover costs, which includes coding support. The retirement value of characters are locked and will no longer change. Those characters may continue to be able to retire at any time (minimum retirement value has been reduced to 250 credits), but they will not be able to increase retirement value by earning more credits. New characters will not be able to retire. Also, players are no longer be able to use retirement credits from other games on Lusternia.
Below are ways to earn more daily credits. More details are discussed on the forums and will be subject to updating as we gather more data.
Defeating mobiles in combat.
Defeating mobiles in ego battles (i.e., influencing).
Participating in an aetherhunt.
Completing some specific in-game quests with a difficulty rating of 3+. The higher the rating, the greater the reward. See QUESTS ALL for all ratings.
Completing commodity quests.
Completing power quests.
Completing Scholar, bard and/or pilgrim quests.
Helping defeat an avatar mob.
Participating in village revolts.
Participating in Aether Flares.
Participating in Wild Nodes.
Participating in Domoth claims and battles.
Cities and communes earn organizational credits every in-game year (approximately every 12 RL days) based on how well their citizens or members have performed in a variety of different tasks. It is up to the city or commune on how they will distribute the credits. Organizational credit rewards range from 1000 credits to 500 credits. Below are ways to earn more yearly credits (see HELP YEARLY CREDITS). As before, details can be found on the forums and will be subject to updating as we gather more data.
Participating in Village Revolts and capturing a village.
Participating in Aether Flares and capturing an aetherbubble.
Participating in Wildnodes and winning the challenge.
Participating and winning Library/Theater Contests.
Citizens or members placing in an Ikon Tournament.
Contributing public designs for crafting organizations.