Lusternia Year in Review: 2017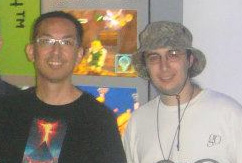 I've been thinking back to when Lusternia was just a glimmer in my eye in early 2002. At that time, I was a volunteer admin in Achaea and loved creating stories and running events and designing and building areas and quests. When the offer to create my own MUD presented itself, I knew I did not have a strong enough technical background to pull it off. However, I had often partnered with a volunteer coder and together we designed and implemented new skillsets and other under-the-hood projects. The coder taught me how to code and gave me the confidence to go forward with the major undertaking that was Lusternia. And, of course, I knew that for Lusternia to be born, I would need this coder by my side to do the gruelling technical work while I was writing busy designing and creating a multiverse.
As you may have guessed, that coder became Roark Libertas, who was amazingly calm in the face of any crisis and kept me sane through the whirlwind of launching a MUD. Though he had a dry sense of humour, he was usually quiet, keeping his nose to the grindstone and working tirelessly behind-the-scenes, rarely taking any accolades and was an invisible, though integral, presence in Lusternia. Thus, I suppose it is no wonder that when he recently stepped down as co-producer, he didn't ask for any fanfare but rather just went quietly into the night. However, I'd like everyone to know that Roark was my friend, business partner and confidant. His amazing coding skills are the very foundation upon which Lusternia was launched. I'll miss him greatly and hope that you will always remember how important Roark was to the game.
Fortunately for us, we have Ianir, who has proven himself over and over to be up to the task of keeping the gears greased and engines oiled so that Lusternia continues running smoothly and seamlessly. Ever since Ianir came aboard, I have never ceased to be impressed by his commitment, hard work, skill and dedication. I know I can count on him and have absolute confidence that he will always step up when needed. Coders don't get enough recognition, so I want to say here and now that he is awesome!
Phew! I didn't quite expect the Year in Review to start on such a turn, so let's move on and review some of the major highlights of 2017. As I sift through the past year's ups and downs, I am impressed at how much we have actually accomplished.
Probably the most significant change was disconnecting guilds from classes, dramatically reducing the guilds to 3 per organization. Each new guild faction is more of a political or philosophical organization. Though I miss the old guild system, I hope you will agree that the new system does a better job handling Lusternia's population.
The next biggest change involved monks, who needed some love. First, we revamped monk combat, completely redesigning the mechanics and (hopefully!) making playing monks more fun and less complicated. Then, we released two new monk classes, the Tessenchi with their fighting fans, and the Nunchaku who specialize in drunken fighting.
Other coding highlights include a complete renovation of the Dreamweaving skillset. Server-side curing was also re-envisioned and reworked. A curio market was established. A guild task and point system implemented. Artifacts were moved to a database system so artifacts can now be bought through the ASHOP verb rather than searching for artifact shops. And, oh yeah, we rebuilt the website from the ground up! None of this mentions the many Envoy Reports implemented, quality of life tweaks, and other under-the-hood improvements.
As always, the lore and geography grew as well through quests and area releases. Let's see, we saw the Salvation of the Orcs quest in Shallach, the Haunting of Mount Krog release, the Swan Song quests of Clarramore, the Towers of the Magi in Bondero Bay, the Orclach Love on the Rocks quest and more. But the most significant new area was probably the Mirage Prison with a rich history and fun quest which was also was a key clue to the major event which ran throughout the year.
This brings us to Ghani n'Rotri, once High Prophet of Magnagora, and an original character from the Taint Wars, now inexplicably alive and twisting fate for his dark purposes. Yes, it was he behind the events that started in Magnagora in June and kept us hopping through prophecies, upheavals in Duum, mysteries at the Wheel of the Goloths, Tainted Promises, the fouling of the Inner Sea, the Basin of Life on the brink of war, and much more. Events culminated in the return of the Dread Lord of Contagion and eventual breaking of the Nine Seals. Astonishingly enough, Ghani n'Rotri is still at large – wonder what that means!
Looking forward to 2018, I believe we are clear to see our way to actually being able to manifest the sixth archetype! We are still debating how far we want to go, as combat for all classes could conceivably change. We may or may not implement a big combat update early in the year and I'd rather not say more but just leave you in suspense as we continue our discussions. Other than that, I know Ianir wants to focus on taking an intense look at some classes to bring them into combat balance with everyone else. Keep an eye out for announcements or an ear to the envoys.
I'd like to mention a few of our volunteers who have really been vital to running behind-the-scenes duties and are simply amazing roleplayers and event coordinators. Czixi is an accomplished writer and roleplayer, who has taken on duties that normally make other admin cringe. Maylea is rock steady and seems to be skilled at everything she turns her mind to. Isune is more technically accomplished than anyone would guess and has been my saviour in helping with the new website. Drocilla is also amazing behind-the-scenes and can always be counted on for counsel and advice. Kalikai has become so essential behind-the-scenes, including with coding, or perhaps I should just say especially with coding, that I am sure Ianir is extremely grateful for. Weiwae is always fun to have around. Lisaera and Viravain are both intense. Charune is a dear deer. Okay, I'm getting punchy. Mysrai, Nocht, Morgfyre, Thax are quiet voices who I hope we'll hear much more from. And I want to thank the many ephemerals who go unnoticed and unpraised but help out in many ways, big and small.
Thank you, players, for being a part of Lusternia. Everything we do, we do for you, and without you, we are nothing. Please remember that behind the façade of every admin and every player is a human being, and each of us is frail and strong, uncertain and stubborn, flawed and still in some way perfect. Enjoy the roles you play, in-game and out, yet remember that everyone we interact with are heroes in their own story.
Know that you are all heroes to me.