By the Power and Will of the Collective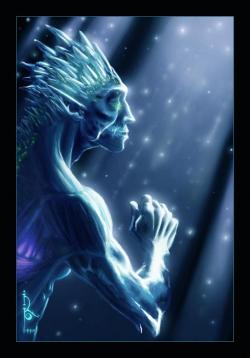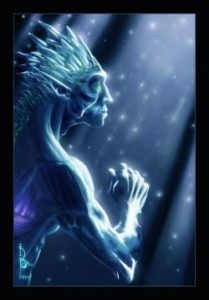 Like so many things, it began with the celebration of successful innovation and well-deserved congratulations to the team involved in its construction. What could go wrong with a Resonance Tower that could broadcast directly into the minds of every citizen…?
Then came the static…
— [ NOISE IN THE MACHINE ] ——————–
> Estar 19th, 472 CE:
We heard some strange static earlier. Just a little glitch though, nothing to worry about. Sublime Opus Nelras and that new citizen, Halberdier Trueflight Iytha, checked on the new Crystal Resonance Tower and all was functioning as expected. Perhaps a minor miscommunication with a particular announcement, we had plenty of those early on and I am no researcher, just a humble guard with the honour to serve at the most prime duty station, the Matrix.
> Estar 24th, 472 CE:
What was believed to be an innocent glitch has become so much more. Though Junior Fellow Teleos showed great initiative in attempting to timestudy the anomaly before, nothing could be discerned. That changed today when the 'static' turned to a deluge of cryptic transmissions of unknown source. The frequency of anomalies prompted Castellan Yarith Shevat and Marquis Falaeron Shevat to inquire with the Temporal Conclave, which reported equally uncertain and ambiguous information. What could affect our Temporal Conclave so intensely?
Even the Voice of Crys was becoming unsettled by the cacophony coming from the Crystal Resonance Tower. Marquis Doman Trueflight was the first to attend the Symphonium's origin with Grand Libretto Xeii Shevat following with deep concern at the discordant sounds where normally only the most harmonious chords could be found.
Even a more martial-minded Commissar can tell something was deeply amiss and the best minds were certainly available in force now to investigate, analyse and attempt repair. Despite best efforts by Engineer Kiradawea Startail and Emeritus Phoebus Windwhisper, mechanically, or perhaps scientifically there was nothing wrong with our Tower. No amount of concussive maintenance was helping this time!
Though, even I could not dispute an underlying voice and cryptic message within the broadcast. While Commissar Shedrin Windwhisper and Force Commander Maligorn Shevat attempted to retain an orderly approach to our current situation, Chairman Luce arrived to properly operate the Crystal Resonance Tower. Valiant endeavours were made at various messages to communicate with the mysterious voice or voices beyond, but nothing worked to modulate and amplify the signal without afflicting and assaulting us with extreme incongruous soundwaves in return.
I remained on guard through the month, the Crystal Resonance Tower my incoherent and static-filled companion…
— [ INSURGENCE AND CIVIL WAR ] —————-
> Urlachmar 13th, 472 CE:
With so much focus on addressing the Crystal Resonance Tower's anomaly, my daily analysis did not foresee the threat to my own charge. As Cloud Keeper it is my duty to monitor the continued health of the Air Plane. Every aspect of Hallifax has been affected by the anomaly, it was only a matter of time yet I too was assisting in containment of the Tower's malfunction. Then, the insurgents came.
Every piece of equipment at my disposal clanged and warbled alerts and warnings. We had to act fast! But wait, why were my own aeromancers assaulting the Plane of Air? This is not logical! Desist!
Not a one listened. They were crazed and mad with overzealous focus upon their mission…
> Urlachmar 15th, 472 CE:
We dealt with the immediate threat, but it was all too clear that these insurgents were brethren, fellow citizens of a kind. This Commissar hopes to never see another day when the Collective fights amongst itself so fiercely again. I maintained my post, guarding renewed efforts by Sublime Opus Nelras Shevat and Engineer Kiradawea Startail to broadcast with the Crystal Resonance Tower as everything in the city seemed to crumble. We told our children not to worry, but it is a dark day when our own reliable and proven science is so perplexed we find few options available towards resolution. These last few days exuded a sense of loss and confusion we are unaccustomed to.
> Urlachmar 16th, 472 CE:
The insurgent threat nearly prompted me to close the link to the Plane of Air from the Matrix, but then we might have been equally vulnerable and at their mercy. So long as the Matrix itself was not at risk, my choice was clear and my place was by its side with the current crisis. It was well, for by remaining I learned and witnessed what few others might appreciate; a masterful interrogation of wit and words by the Lord Portius Nitraedes.
Apparently these insurgents were familiar with his work and were persuaded to speak their intentions. Perhaps they hoped to gain a new comrade in this time to assist their mission. A foolish musing by them, but worked to our favour. The Lord Librarian was able to convince the insurgents of his earnestness in their cause, loosening their tongues to reveal the motivation and reasoning for their aggression at their own fellow comrades.
Despite evidence to the contrary, the insurgents were attempting to prevent harm to the Beacon of Harmony and avert a crisis in which the Board was allowing the city to destroy itself. The one claimed, in front of witnesses (Emeritus Phoebus Windwhisper, Engineer Kiradawea Startail, Commissar Shedrin Windwhisper and Lord Portius Nitraedes), that even the Matrix would come under threat. Now I was paying much closer attention, but I saw no fluctuations in the energies of our Nexus. The only thing clear, our Collective future was in grave danger.
> Urlachmar 17th, 472 CE:
We're not so high and mighty like these lords and ladies of the Upper Wards, so yeah, we do gossip on occasion. How else should servants entertain themselves between chores? Or during chores, eh?
But we heard, through the most reliable channels of course, that that Lord Nitraedes did even better! He cornered one of those insurgents and tricked her good. He can be sly that one, but no less loyal to the Collective. He pretended to be a malcontent and got her singing like a canary! Hah! Poor thing thought she knew his nature. He reported everything he heard straight off to the Sentinels and Force Commander Maligorn Shevat.
Those insurgents, hah, like religious zealots worshipping half-formed gods. They really thought if they could cut our tie to the Elemental Plane of Air it'd prevent the war with New Celest and thus the civil war. We couldn't help but giggle a bit at how illogical this splinter group seemed. We can assure you, as servants, we don't throw out the dirty clothes with the dirty water like that!
— [ SACRIFICE AND DUTY ] ———————-
> Urlachmar 17th, 472 CE:
Another pens my thoughts in what the mortals call the 'common tongue' and I hope I have done enough justice in my memories so they may write a comprehensive tale. I am grateful for this one they call Hathi Aves for acting as translator and scribe so my own recollection may be recorded and added to the knowledge of the Collective. I will first say, though I am mute, that does not mean I do not understand what is said around me or what happens in my own home here in the Symphonium hall.
Knowing the Crystalline Lord Crys as intimately as any other swan, we understand at a soul-deep level how such discordance from the Tower could grate and enrage His desire for perfection. I found myself hiding and taking shelter from the ominous and perturbing dissonance, but remaining close to the Voice perhaps for a sense of commiseration? It was then that the Sublime Opus Nelras Shevat, Grand Libretto Xeii Shevat, and Marquis Doman Trueflight returned speaking in hushed, urgent whispers about insurgents in the city. I was grateful then to be so protected in the hall, but my friends were not so lucky and free. The weight of their worries were heavy and pregnant in their voices as they returned to find their respected, if not beloved, Voice of Crys in turmoil.
What happened next was a miracle to behold…
The Grand Libretto Xeii Shevat in an act of ultimate sacrifice submitted herself for the protection of the Voice and the Symphonium. Crys took advantage of the willing vessel and chose to flee the war brewing into the body of His Brother's shard. Some may think the Crystalline Lord above emotion, but the fear to hide His power and song runs deep from the days of escaping the Soulless God Zenos.
The last of his kind, my Sublime Opus, was crushed at his wife's new condition but even through emotional distress, he knew his duty and returned to the city. Like a tautly pulled string, the Director for the Symphonium held himself together for the good of the Collective.
— [ RESONANT REPARATIONS ] ——————–
> Urlachmar 18th, 472 CE:
In training we are taught to be on guard for any and all potential transgressors; a covetous geriatric is as likely to steal or commit crimes as a vagrant child when conditions are right. So too do I sometimes wonder about the cunning minds of even our most serene and poised citizens. I came to admire Provost Zyphora Windwhisper's clever code-breaking skills today as she outwitted the static and brought some semblance of order and comprehension to the discordance.
Through the science expertise of Engineer Kiradawea Startail, the aeromantic prowess of Provost Zyphora Windwhisper, the careful monitoring of Primus Gero and the operational efforts of Sublime Opus Nelras Shevat, we finally produced a comprehensible communique and received one in turn. With a few additional modulations, we were able to connect properly with the other side. Something came through the rift and descended upon our Spire of the Lawgivers, but, what? I cannot leave my post, but how I wish I could witness what would come next…
— [ ONE VOTE TO END IT ALL ] ——————
> Urlachmar 19th, 472 CE:
Few noticed me in the rush to investigate the anomaly, but when we do our jobs well, no one should need notice us or call upon us. As the Senior Administrator says, our place is to ensure the city functions smoothly. The best proof and compliment we can receive is to be invisible and left alone to continue our good work.
Normally unflappable and unshakeable, even I found myself in awe at what I witnessed upon entering the Boardroom today. The Archmage, once and always Chairman of Hallifax, Cririk Adom himself stood alive and well patiently awaiting the arrival of every citizen to receive him. Everyone in attendance was amazed and shocked, but the worry in the room was also palpable. I disgracefully admit to a girlish gesture of tucking a stray strand of hair behind my ear when I first laid eyes on the Chairman Eternal.
The Chairman Eternal explained his presence, briefly, as to not upset the timeline then elaborated on the reasons in more detail. He revealed a future war and internal conflict within the Beacon of Harmony. His next words are forever writ upon my notepad in memory and as a warning:
"Disagreement amongst the Collective."
"Different factions begin to manifest within the city."
"Lines drawn primarily by the guilds."
"Hallifax succumbs to civil war."
With minimal discussion and debate, we arrived at the same logical conclusion. By the words of the Chairman Eternal and the Collective citizens, dividing ourselves into guilds by class was wrong and imbalanced. Such a division caused the very dire situation he came to warn us about. So came the moment which would redefine the Collective forever. A formal proposal by the Archmage Cririk Adom to the current Board of Directors to dissolve the guild organisations as they exist today.
Completing the quorum, Provost Zyphora Windwhisper represented the Aeromancers and the combination of Commissar Shedrin Windwhisper and Chief Superintendent Portius Nitraedes spoke for the Sentinels. Together with the Board in attendance, Sublime Opus Nelras Shevat and Primus Gero, these five individuals stood for all of Hallifax as a vote was called and made. The Boardroom echoed with the hushed discussions of citizens talking amongst themselves to reach a conclusion within their own organisations on what to do.
Suitably prolonged for the issue at hand, the silence stretched moments though I could hear breaths being held then slowly released as each one voted to dissolve the existing guild organisations. In that stoic Executive Boardroom atop a spire in Hallifax the guilds once known as the Centre of Aeromantic Engineering, the Institutional Society of Hallifax for the Improvement of Temporal Knowledge, the Sentinel Company of Temporal Anomalies, and the Symphonium Opera House disbanded with a united and unanimous vote by the power and decree of the Collective. The Chairman Eternal called for the activation of Project Accord, and all sighed as their bonds to those great organisations were sundered.
The City of Hallifax will never be the same, but we are not lost or weak. May the wisdom of the Chairman Eternal guide us always:
"The Collective is strong because it is both many things and one thing."
"The Collective is strong because it has order and balance."
"Collectivism is Order."
— [ CONTINUUING EDUCATION ] ——————-
> Dioni 20th, year 472 CE:
Shameful, that is the only word for it. How easily our city falls prey to the degradation and foolishness of foreigners, Gaudiguchians no less! Surely collective anger and rage is not contagious, yet I may be wrong. What came as an angry mob of rabid beasts from outside our walls soon came within as my fellow citizens scrambled like ants to unite in a common solution with grace and poise. I thought our Collective unity strong enough to remember the Higher Emotions regardless of the Symphonium's protection of its ideals, but I was wrong.
This must be rectified. Immediately.
A strong foundation is the basis of proper growth and excellence, so too must Hallifax arise with every ounce of refinement to ensure each new generation receives the lessons of composure. Yes. I shall send a missive immediately and arrange everything.
> Vestian 11th, year 472 CE:
I should not fault the servants and lower caste for freely discussing my plans, they are of course the superior route and deserve every ounce of indulgence for success. But truly, idle gossip should be curtailed in future. Thankfully my plans were nearly cemented pending discussion with that Senior Administrator.
Imagine my astonishment at being beset in my own Gallery by the former Opus Nelras Shevat and former Chairmen Falaeron Shevat with inquiries to what was meant to be a delicate and discreet matter. I shall have to have additional words of etiquette with Miss Clarramore. At least these two fine gentlemen were quite decorous and suitable allies in my project, unlike the handful of other citizens who strode like kings and queens into my Gallery to gape at me like fish. The indignity!
Upon our arrival, we found Miss Hilelsa already somewhat engaged with Professor Orventa Trueflight and Lord Portius Nitraedes in divulging my secrets, how unseemly.
After a debate about the logistics of finance and real estate, the woman acquiesced and allowed the more capable hands and minds of the Collective accept the project as a mission. Though why we should involve other citizens besides my own personal selection for my project, I cannot imagine. But I suppose tolerance and forbearance are virtues as well.
> Vestian 12th, year 472 CE:
I am not so proud I cannot admit when the Steel Magnolia is correct. We have witnessed a bit of despairing complacency since the disbanding of our former guilds. Hallifax was not meant to languish this way and it is my job to ensure it does not. Smoother of wrinkles I am, even if my tools of trade are pen, parchment and a financial ledger.
But, I refuse to let the Steel Magnolia the satisfaction of my open agreement. Plus, is it not the Hallifaxian way to operate as a Collective? We chose to dissolve them together, we should choose to rebuild new organisations together. I could not have been more pleased at the efficiency and speed of my fellow citizens this day. A contingency of Marquis Shedrin Windwhisper, Marquis Nelras Shevat, Viscountess Xeii Shevat, Viscountess Tirah Mzithrei, Mistress Kialkarkea Diodorus, Marquis Falaeron Shevat, and Marquessa Phoebus Windwhisper left my office confident in their new mission.
While others in attendance broke into groups, Lord Portius remained to convince me to not settle only for the Steel Magnolia's interpretation of our new structure. Though it is not my duty to make such decisions, only implement once decided, I encouraged him to look for like-minded citizens. And so he joined the enterprising efforts to collect public opinion about reorganising into new guilds.
— [ ROCKING THE VOTE ] ————————
> Vestian 12th, year 472 CE:
No one has ever asked my opinion before. Today was a day for the history books. I am accustomed to receiving compliments aplenty to bolster my efforts in guarding the city, being ordered to a duty location or set to take a watch cycle, but my opinion? Not that I can recall in my lifetime.
Of course I agreed to the benefit of having new guilds. What member of the Collective can possibly disagree with desiring order and structure? The Collectivist Manifesto is very clear about the strength of Order. Marquessa Phoebus Windwhisper seemed to agree with me and promised to forward my thoughts. I am honoured by her sponsorship and the support of Marquis Falaeron Shevat both.
> Vestian 12th, year 472 CE:
I will not hide my heavy heart from myself, for truly that would be a crime with myself as victim and transgressor, but the days since disbanding the guilds and every moment of uncertainty have taken a toll. Quite an adjustment to what normally should be such a serene life. I was relieved to receive the Marquis Nelras Shevat and Viscountess Xeii Shevat today though with some good news for once. What began as a deeply concerning proposal turned into a bright moment of hope.
Long have my days been, given to worry and wonder… pondering things that I have oft thought the Chairman Eternal himself might sympathise with. How I regret my chance. But I will stand strong now, for my convictions and for him. I will not have it said that the Master Artists do not appreciate his words – no, I shall ensure that the Windwhisper Salon is known through the ages for its support. Collectivism is Order.
> Vestian 13th, year 472 CE:
Probability analyses in the wake of the guilds' dissolution adequately corroborated the Chairman Eternal's premise that our guilds could lead to disharmony. The variance was within expected tolerance limits for such an event; .173%. With such overwhelming scientific proof, I was now satisfied fully in our decision to disband, so imagine my surprise when Marquessa Phoebus Windwhisper proposed reforming guilds. I explained my data, expounding upon the main fact that we should not organise again within the confines of class.
The Marqessa and Marquis Falaeron Shevat assured me of a change in variables; specifically that the new organisations would welcome all classes. After a quick review of my calculations, such a modification would indeed produce more favourable results for the Collective. My only request was that my agreement was contingent upon an organisation which might continue our progress and innovation. If anything events have taught us, it is that Hallifax must continue to strive and adapt to new calculations and probability analyses to thwart calamities again in future. Let that be part of the legacy of Ai'dayi Lars.
> Vestian 13th, year 472 CE:
Normally, I do not care much about the goings-on of other citizens. I do my job, do it damned well and the city is brighter for it (and free of pigeon droppings)! But that Lord Nitraedes fellow, he came by and spoke quite practically. I may not be of the high caste, and maybe I never will, but there is a place in Hallifax for us functional citizens. The kind who do their job, every day, even when it is not glorious or romantic. I was proud to back his efforts, and rightly so. He has my respects and I wish him luck.
> Vestian 13th, year 472 CE:
Guild or no guild, the day I stop saluting is the day I have been ripped irreparably from the Tapestry, but the former Chief Superintendent Portius Nitraedes was a good Sentinel. He tended our group's interests and continues to do so. When he came to me with his proposal, I was sceptical, just a bit, but I could not deny the logic between him and Lord Zitto Shevat. The Sentinels will not be forgotten so long as we remember to teach Hallifax our ways from within every new guild formed.
To the superiority, success and enduring Collective of Hallifax, I vow to serve in any and all capacities as required.
> Vestian 14th, year 472 CE:
As an Orchestra can only produce its most sublime harmonics through a full complement of musicians, so too does Hallifax operate best when working towards a united and singular goal. Of course it was the former Opus and former Libretto, Nelras and Xeii Shevat, who were considerate enough to remember my place in the Collective's cooperative efforts today. The two shall be remembered fondly as the last to bear these titles.
How could I not support their efforts and the Lady Shalmae Silverplume's? I did not only support it, I whole-heartedly joined their efforts fully. I could hear the music of Hallifax thrumming in harmony through my heart today. Something momentous was coming.
> Vestian 14th, year 472 CE:
Whoever said aerochemantics is easy never had to actually maintain an aeroship. Oh I don't complain, but I had hoped such knowledge would not die with the Aeromancers. My worry was ill-founded because Hallifax will always tend its own. It was fortuitous timing today that an entourage of Marquis Shedrin Windwhisper, Viscountess Tirah Mzithrei, Marquis Falaeron Shevat, former Provost, Lady Zyphora Windwhisper, Marquis Gero, and Master Aagasa Shevat led by Marquessa Phoebus Windwhisper came with a proposal for just that very thing!
An education in the Higher Emotions and following the Chairman Eternal, Cririk Adom's example are all very well and good, but that is not what gets me waking in the morning. My heart beats for science and that moment when your experiment finally succeeds after hours, or even days, of research. I absolutely support new guild organisations, but find myself biased towards that one with a focus on innovation.
— [ THE PEOPLE'S CHOICE ] ———————
MINUTES OF HALLIFAX ADMINISTRATIVE AFFAIRS
I. MEETING – CALL TO ORDER:
The meeting of the Beacon of Harmony was called to order by Senior Administrator Hilelsa Clarramore. Let the record state that the date is the 14th of Vestian, 472 years after the Coming of Estarra.
II. RECOGNITION OF CITIZENS PRESENT:
a city administrator
Senior Administrator Hilelsa Clarramore
Lafu Longplume
Senior Researcher Ai'dayi Lars
Zedlon Windwhisper, the Ionic Conductor
Conductor Fre'zik zi'Prouep
Shalmae Silverplume, the Steel Magnolia
Captain Irima Ironwing
Miella Windwhisper, the Cerulean Skybird
Master Aagasa Shevat
Viscount Akatriel Trueflight
Viscountess Astrina
Marquis Ayisdra Ysav'rai
Marquis Doman Trueflight
Marquis Falaeron Shevat
Marquis Gero
Labourer Trueflight Iytha
Mistress Kialkarkea Diodorus
Engineer Kiradawea Startail
Marquis Maligorn Shevat
Marquis Nelras Shevat
Marquessa Orventa Trueflight
Marquessa Phoebus Windwhisper
Lord Portius Nitraedes
Marquis Shedrin Windwhisper
Viscount Teleos
Viscountess Tirah Mzithrei
Librarian Wondir Nitraedes
Viscountess Xeii Shevat
Lord Zitto Shevat
Lady Zyphora Windwhisper
III. STAFF COMMENTS:
As proposed and initiated by Lady Shalmae Silverplume, the Administration has undertaken the effort to inquire and institute new organisations to continue education of the Collective's citizens. In the absence of a full Board of Directors, it falls to us – the Collective – to decide how we shall move forward. Were it possible for the remaining members of the Board to be present that would have been preferable, but we shall begin the proceedings regardless.
IV. OPEN FLOOR:
By the Collective and through the will of the Collective, three organisational proposals were returned for review:
1) To represent the Higher Emotions, cultural pursuits and altruism – proposed by Lady Shalmae Silverplume
2) To represent the practical, the economical, the innovative and the progressive – proposed by Lord Portius Nitraedes
3) To follow in the footsteps of Chairman Cririk Adom, to represent order and duty – proposed by a Sentinel Deputy Commissar with sponsorship by Marquessa Phoebus Windwhisper
V. NEW BUSINESS:
Let the records show each proposal was seconded twice – once by someone who has passed through the Portal of Fate, and once by someone who has not – that the breadth of the Collective be represented in approving them. Proposals were seconded as follows:
1) Librarian Wondir Nitraedes and Conductor Fre'zik zi'Prouep
2) Lord Zitto Shevat and Zedlon Windwhisper, the Ionic Conductor
3) Mistress Kialkarkea Diodorus and Master Artist Miella Windwhisper, the Cerulean Skybird
Proposals were accepted by the vote and will of the Collective and Citizens in attendance.
In order to establish the new organisations, caretakers are required. Three candidates were volunteered for interview as follows:
1) Aelaoili Skysoarer
2) Indcii Oolin
3) Princess Setisoki of Hive Tutotophet
After a question and answer opportunity between the citizenry and the candidates, in the presence of the witnesses, each was invited to serve the Beacon of Harmony as caretakers of its new guilds. With their acceptance as caretakers of the new organisations, names were declared as follows:
1) Grand Aerie for Harmonious Refinement
2) Skylark Consortium for Collaborative Advancement
3) Adherents of Adom
With Chairman Luce Shevat's belated arrival as the representative of the Board of Directors, it is decreed for the records that the proceedings are in the best interests of the Collective and vote for the founding of the new guild organisations as proposed.
VI. ADJOURNMENT:
There being no further business to come before the Board or Administration at that time, the meeting was adjourned at 11:12 a.m.
Approved this 16th day of Vestian in the 472nd Year after the Coming of Estarra.
By: Hilelsa Clarramore, Senior Administrator